Only about 10 percent of land in sub-Saharan Africa is formally documented, with much of the remaining 90 percent held under customary land tenure systems, where rural youth have access to land primarily through inheritance and customary land allocation.
These customary land systems are frequently dominated by conservative traditional leaders who favor adult men, making it challenging for young men and nearly impossible for young women to gain secure land access, use, and ownership. Research shows that landlessness and lack of economic opportunities are important drivers of youth migration and farming career decisions in both land-scarce and land-abundant countries in sub-Saharan Africa.
And for those youth (mostly young men) who can inherit land, inherited land parcels are often of poor quality and too fragmented to support a sustainable income.
Young rural women and men can also access land through government land redistribution programs, or through land markets. But these systems also come with multiple constraints hampering youth access to land: many youth lack resources to buy or rent land; formal land sale and rental markets are often under-developed; awareness of and legal protections for youth land rights are inadequate; and state-sponsored land redistribution programs often fail to account for the needs of youth.
Land scarcity compounds challenges for low income youth, especially in densely populated regions. One estimate shows that 91 percent of Africa's uncultivated arable land is concentrated in just nine countries, with increasing land scarcity in most African countries.
It is nearly impossible for young women to gain secure land access, use, and ownership.
Although steep, the obstacles to youth land rights are not insurmountable. Organizations are noting promising progress toward youth land rights.
The debate over how, even whether, to promote youth land rights is at the early stages. A leading question is whether youth automatically and sufficiently benefit from existing and/or ongoing land reforms in Africa and interventions, or whether the land reforms and interventions have to be specifically designed or adapted to youth needs. Equally, policy makers ponder over how to negotiate the challenges of enhancing land rights during the 'transitory' youth phase.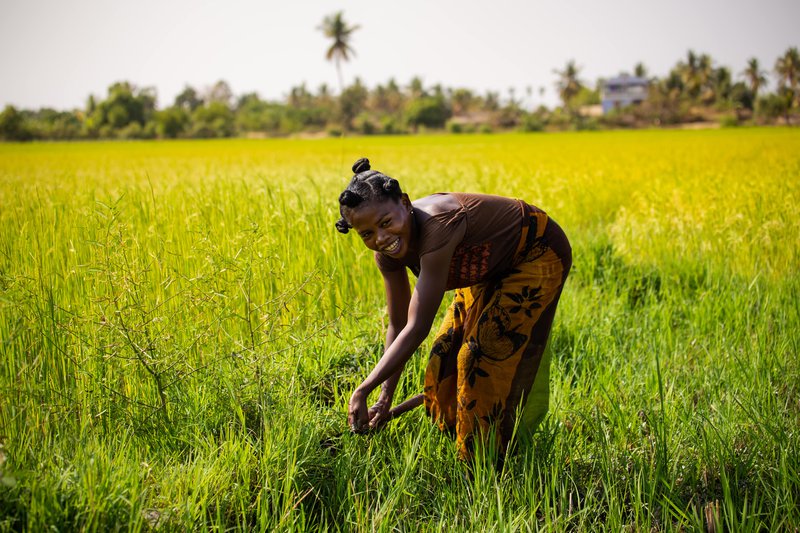 This is where ILC comes in…
A few examples of how our members engage in various advocacy efforts to secure land tenure for the youth:
In Senegal, Conseil National de Concertation et de Coopération des Ruraux (CNCR) through its youth council provides a youth space for consultation, learning and knowledge exchange on land and good agricultural practices. In Togo Pour un Monde Meilleur (P2M) a member of Togo multi-stakeholder platform promotes land-based investment by sensitizing landowners to contract land to landless youths. In Burkina Faso, Réseau des Organisations Paysannes et des Producteurs de l'Afrique de l'Ouest (ROPPA) runs Université Paysanne that empowers rural communities and youths on agricultural production. Dynamique des Jeunes pour l'Environnement et le Développement Durable (DYJEDD), a member of ILC Africa platform in the DR Congo, a network of young indigenous people and other communities, works on sustainable management of forest ecosystems in the country. It focuses on a forestation, climate change mitigation and sustainable development. Action pour le Développement Communautaire (ADC) a member of ILC Africa platform in Cameroon, a rural youth organization, works with local and indigenous communities through action research, information and awareness raising, capacity building and advocacy. Kenya Land Alliance runs a youth program called Youth for Accountability, Transparency and Inclusion in Land and Natural Resource Governance.
The ILC Future Leaders Fellowship
The ILC Future Leaders Fellowship is a one-year programme for young activists and changemakers who are making a difference within organizations in the ILC network and in the land rights space.
ILC has developed a dynamic programme for young people from the network to connect to other young people from all over the world and to equip them with tools for leadership skills and bring about change to achieve land governance and the Sustainable Development Goals. The Fellowship puts special emphasis on promoting women's leadership.
Towards a Multi-stakeholder Platform on youth and land governance in Africa
A Multi-Actor Partnership Platform on Youth Land Governance is envisaged to bring together various land stakeholders in Africa to synergize their efforts in promoting youth access to and control over land, ownership and utilization. It will provide a forum for actors from governments, civil society organizations,, international non-governmental organizations, private sector, academia and community representatives to dialogue on policies and practices to improve youth land governance. The platform is expected to build on existing advocacies implemented by members and partners. Some of these include the Landesa youth projects implemented in Kenya, Liberia, Tanzania and Zimbabwe, promoting youth land rights through various initiatives including youth land tenure assessments and land rights tool development, civil society capacity building, land rights awareness and educational campaigns, review of land laws and policies and strengthening of young women's land rights; IFAD and FAO youth programmes, ILC initiatives of the youth and access to land among its members, etc. Plans are underway to bring together these stakeholders to develop a joint process on youth land governance.
Major stakeholders targeted for the process include Civil Society Organizations (CSOs), private sector and academia. Key partners targeted include Intergovernmental Authority on Development (IGAD), Landesa, Africa Union (AU), YILAA, International Fund for Agricultural Development (IFAD), Food and Agricultural Organisation (FAO), Cadasta Foundation and World Bank (WB), among others.